Emotional intelligence is a key to success as an individual, in business and sport.
There is a lot of research to show how an emotional intelligent individual increases their confidence, self-esteem and resilience. An emotional intelligent workforce and management boosts productivity plus a greater sense of mental wellbeing. Find out how you can increase your emotional intelligence.
In his article Christopher Shoop-Worrall highlights how the relationship between football, well the England men's team, and emotional intelligence has change over the past couple of years and how this has helped bring a success not achieved for decades.
How emotional intelligence helped take a young England team to the brink of a World Cup final
A "new era for England"; a young team who "did their country proud"; a manager who embraced and consoled each of his players afterwards hailed a national hero who "united the country". Even sales of waistcoats – Gareth Southgate's signature sideline look – went through the roof. As English football fans came to terms with the crushing defeat at the hands of Croatia in the World Cup 2018 semi-finals, it was clear there had been a tangible shift in the way these young footballers and their manager were received and portrayed in the media.
Contrast the response to England crashing out of its first ever World Cup in 1950, when the Daily Mail echoed attitudes towards male footballers that have continued to define much of today's popular sports coverage:
One reason for our soccer eclipse in the World Cup stands out clearly – our men are too gentlemanly… In a street fight you don't play a violin – you use it as a club.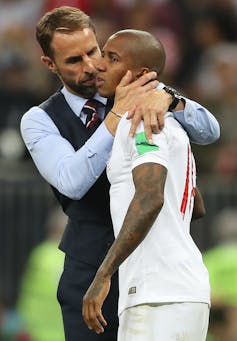 The failure, both collectively and individually, was primarily down to a lack of "fight": the ability to overcome all obstacles, such as better-prepared and better-trained opponents. The players should have been less diplomatic, less emotional and less sensitive if they wanted to win, was the message. They had, the Mail appeared to be saying, been insufficiently "manly".
Macho man vs new man
The image of the archetypal England player – the "Lion" – has long been steeped in qualities that would now be associated with "toxic masculinity". The ideal Lion, the Roy of the Rovers figure, is a stoic, defiant battler who fights against the odds without wavering or questioning. He doesn't complain or vocalise his internal strife. His emotional range is, appropriately, limited to roars: either passion or anger.
The iconic image of Paul Gasgoine in tears at Italia 90 is partly so iconic because, as Daniel Storey notes in his excellent audiobook Gazza in Italy, it is the exception to the rule. Gascoigne aside, the ideal England player is a statue of stiff-upper-lip emotional repression.
This English football hero is one the nation's press has helped fix in the popular imagination. Football successes or failures are still allied to the perceived level of "heart" that a team or player has demonstrated. Any "flamboyance" in players' behaviour – such as fashion sense, spending habits or hairstyles – is frequently mocked.
The classic image of a Jack the Lad England star – the chest-thumping, badge-kissing hero who can down a pint comfortably – is one that stands awkwardly against decades of evolution in football and popular culture, as ideas of the typical "man" have been increasingly challenged. For far too long, leading voices in sports reporting have championed certain players who fitted the Lion stereotype at the expense of others, and in the process have distorted the reality of modern male football.
World Cup 2018
It has taken the World Cup in Russia, aided by England's unexpected progression in the tournament, to see that toxic restriction of English football identity widely challenged. Certain players – most notably Harry Kane – arguably still receive greater levels of acclaim due to their closeness to the "Spirit of '66" stereotype of a classic England international. However, there has been an undoubted and welcome growth in coverage that expresses the emotional literacy of the young players carrying the hopes of a nation.
The positive platforms given to Danny Rose, for example, to discuss his mental health and battles with depression, marks a significant step where footballers and people within football culture can express emotional and mental vulnerability. Where other players who suffered from mental illness – most notably Paul Gascoine – became items of tabloid titillation, the increased sensitivity and acceptance of men's mental health is a welcome step and long overdue.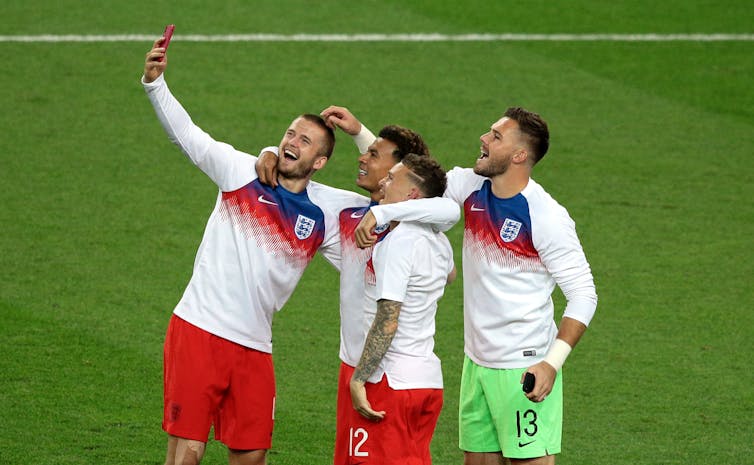 Changing media attitudes
Media representations of the squad have also challenged traditional ideas of the toxic Lion ideal by showing these players as diverse and sensitive young men. It is almost inconceivable to imagine past generations of English World Cup sides being shown playing around on inflatable unicorns, for example, without either an emphasis on alcohol – permissible as an example of lad culture – or toe-curling flirtations with homophobic "banter". This generation, however, is shown to be merely having fun: expressing simple, childlike enjoyment while still bearing a badge that historically would have discouraged any emotional expression.
In a recent appearance on BBC Radio 5 Live, the New York Times' chief soccer correspondent Rory Smith succinctly outlined how the other great English football myth of the aggressive, apoplectic manager is no longer applicable in the modern game. Being screamed and shouted at by a boss, as he put it, is "not how people in any industry expect to be treated". The reason for this change in broader attitudes is also reflected in the UK media gradually breaking with its traditional attachment to the Lion-style footballer.
This "millennial team" (to borrow Smith's words) is one that grew up in a wider culture that increasingly sees male emotional expression and personal vulnerability as something other than a failure of character. Seeing these players expressing a variety of emotions – from playfulness and affection to fragile vulnerability – is a reflection of a society becoming more comfortable with male emotional intelligence.
It's a welcome step forward in British football culture when the image of a player in tears is no longer considered an embarrassment. England's World Cup team are still Lions; but now they're allowed to do more than simply roar.
---
Christopher Shoop-Worrall, Lecturer in Media at UCFB and PhD Researcher in Journalism History, University of Sheffield
This article was originally published on The Conversation. Read the original article.